INTRODUCTION
Big Bang is an cryptocurrency exchange. It is an online platform that allows users to buy, sell, and trade various cryptocurrencies and brand tokens. It serves as an intermediary between buyers and sellers, providing a marketplace for individuals and institutions to exchange digital currencies for other cryptocurrencies or traditional fiat currencies like the USD or Euro.

Big Bang provides a secure and convenient way for individuals to enter the world of cryptocurrencies. They typically offer a range of trading pairs, allowing users to trade one cryptocurrency for another or to buy and sell cryptocurrencies using fiat currencies.PROBLEM
The cryptocurrency market is booming, but it remains inaccessible and complicated for many individuals and businesses. Traditional exchanges and also cryptocurrency exchange have lack user-friendly interfaces, making it difficult for newcomers to enter the market. Additionally, concerns around security and trust continue to plague the industry, hindering widespread adoption.

In the current cryptocurrency landscape, there is a significant gap when it comes to providing a dedicated platform for real business tokens to be listed alongside their respective brand tokens. Many existing exchanges primarily focus on popular cryptocurrencies and overlook the growing demand for legitimate business-backed tokens. This lack of specialized platforms leaves businesses struggling to find an appropriate avenue to showcase their tokens and engage with potential investors.

SOLUTION

Big Bang bridges the gap between real business tokens and their brand offerings. Big Bang is specifically designed to provide a dedicated marketplace where businesses can list their tokens, enabling them to effectively communicate their value proposition and foster trust and credibility among investors.
UNIQE SELLING POINTS

Tailored Listing Platform: Big Bang offers a unique listing platform dedicated to real business tokens. We understand the importance of creating a distinct space where businesses can present their tokens alongside their brand offerings. This specialized environment ensures that investors can easily identify and engage with legitimate business-backed tokens.
Brand Visibility and Trust: Big Bang goes beyond token listings by emphasizing the integration of brand identity. By providing a platform that showcases both the business and its associated tokens, Big Bang enhances brand visibility and fosters trust among investors. This approach allows businesses to build strong relationships with their token holders and establish credibility in the market.

Investor-Friendly Environment: Big Bang prioritizes the interests of investors by conducting thorough due diligence on listed tokens. Our platform ensures compliance with regulatory standards and conducts comprehensive assessments to verify the legitimacy and potential of business-backed tokens. Investors can confidently explore Big Bang, knowing they are presented with high-quality investment opportunities.

Streamlined Token Trading: Big Bang offers a seamless trading experience for both businesses and investors. Our user-friendly interface and advanced trading features enable effortless buying, selling, and tracking of tokens. Businesses can effectively manage their token liquidity, while investors can easily access and trade business-backed tokens within a secure and reliable ecosystem.

Dedicated Support: Big Bang provides dedicated support to businesses and investors. Our team is committed to assisting businesses in navigating the listing process and optimizing token performance. Additionally, we offer responsive customer support to address inquiries and concerns promptly, ensuring a smooth and satisfying experience for all tokenholders.

ADVANATGES

Big Bang is an cryptocurrency exchange. It is an online platform that allows users to buy, sell, and trade various cryptocurrencies and brand tokens. It serves as an intermediary between buyers and sellers, providing a marketplace for individuals and institutions to exchange digital currencies for other cryptocurrencies or traditional fiat currencies like the USD or Euro.

Big Bang provides a secure and convenient way for individuals to enter the world of cryptocurrencies. They typically offer a range of trading pairs, allowing users to trade one cryptocurrency for another or to buy and sell cryptocurrencies using fiat currencies.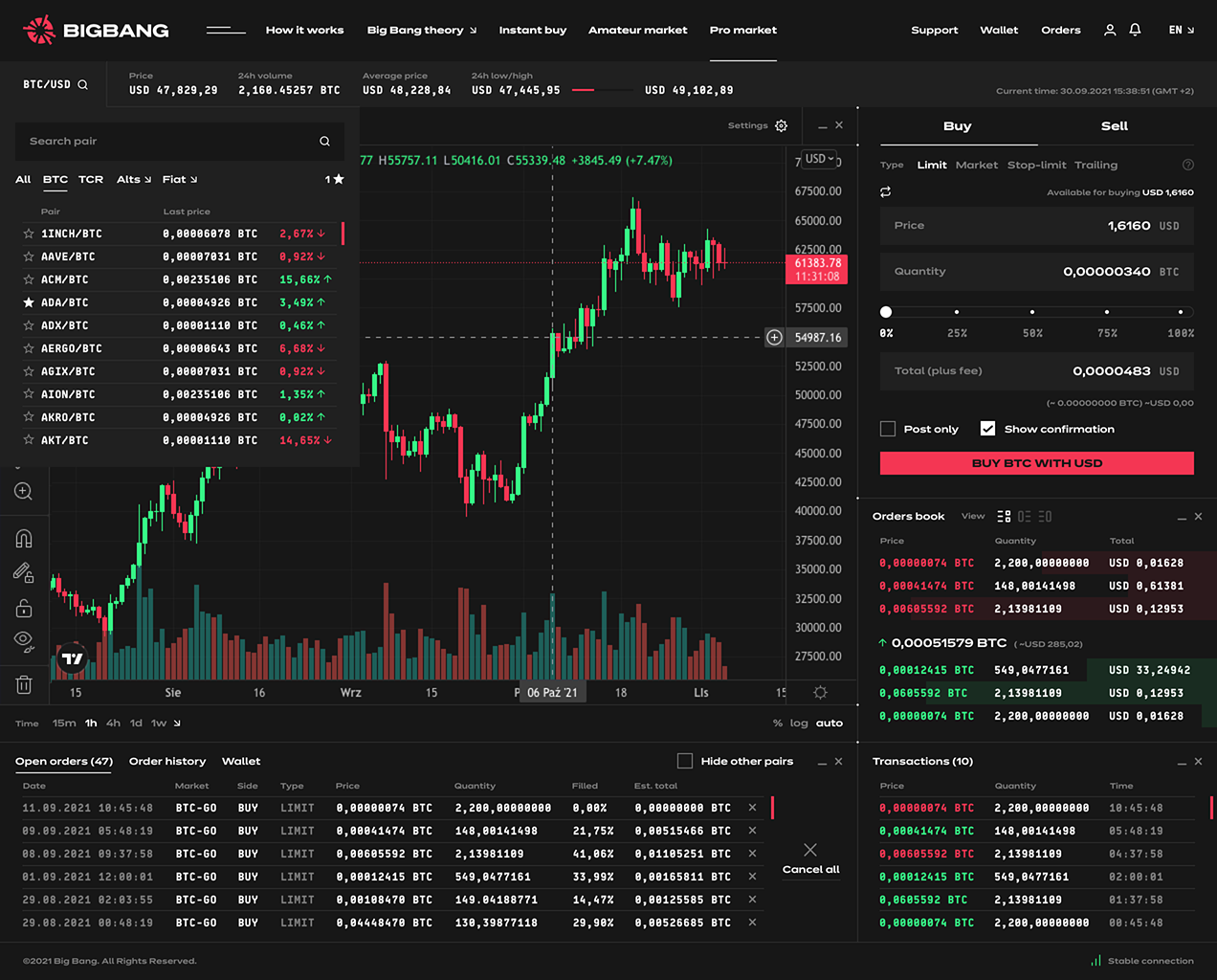 MARKET SIZE

Global Cryptocurrency Market size was valued at USD 4.06 billion in 2021 and is poised to grow from USD 4.57 billion in 2022 to USD 13.18 billion by 2030, growing at a CAGR of 12.5% in the forecast period (2023-2030).
Cryptocurrency is a virtual currency or even known as the cryptographic piece, which is called a digital currency encrypted to monitor transactions by cryptography and prevent counterfeiting. The computer networks which are connected to a virtual environment operate a decentralized network based on blockchain technology that operates the cryptocurrency. This blockchain technology ensures safety and eliminates the risk of identity robbery of the user as it involves the security password that is linked directly to the digital wallet of the currency holder. Cryptocurrencies are used widely over conventional payment systems on various platforms as it facilitates faster payment with zero transaction charge and offers resistance and transparency against inflation. These are some of the major advantages that are provided by a digital currency which, in turn, drive the growth of the cryptocurrency market during the analysis period.
TOKENOMICS

We present comprehensive financial insights for those with a vested interest in endorsing the Tokenization of the Big Bang. Below, you shall discover essential particulars regarding the BANG token, along with meticulous computations for the annual launch of our cutting-edge gaming opus. Additionally, within this dossier, you will gain access to intricate breakdowns detailing the deployment of amassed capital, along with meticulously crafted financial forecasts delineating our trajectory.
BANG TOKEN DETAILS
| | |
| --- | --- |
| Number of tokens on sale | 100 000 000 BANG |
| Tokens that are not sold will be | BURNED |
| Utility of tokens | taker/maker 50% discount |
| Big Bang (BANG) Tokens holding | 20% of sold tokens |
| Airdrop pool | 10% with Citizen Pass account |
| Basic account price | 0.1 USDT |
| Citizen Pass price | 0.09 USDT |
| Percentage of revenue | up to 21% |
| The period of token repurchase | LIFETIME |
| Beginning of the repurchase | Q1 2025 |
| Frequency of repurchase | Quarterly |

USE OF COLLECTED FUNDS

The aggregated resources shall predominantly find allocation in the realms of development, marketing endeavours, external collaborations, and sundry expenditures intertwined with the genesis of digital diversions. Furthermore, a portion of the amassed resources shall be dedicated to the acquisition of BANG tokens from the exchange, followed by their subsequent annihilation, coupled with a remittance towards the utilisation of the Tecra Space platform.
The raised funds will be allocated as follows:
| | |
| --- | --- |
| Exchange marketing | 51% |
| Security audits and development | 27% |
| Operational costs | 12% |
| Tokenization Commission fee for the Tecra Space platform | 7% |
| Legal | 3% |

UTILITY OF BANG TOKENS

The utility of BANG tokens is primarily to reduce transaction fees on the exchange by 50% for users who hold BANG tokens in their wallet.

The BANG token will implement a deflationary mechanism, as outlined in the exchange's financial policy. This policy commits up to 21% of the company's annual revenue to buy back BANG tokens from the exchange and then remove them from circulation. This process will continue indefinitely.

The company also reserves an additional 20% of tokens based on the amount of tokens sold during the crowdfunding campaign. The company has identified its wallet and commits not to sell more than 10% of its total token supply, which means it can only sell the entirety after 10 years, starting from 2024.
Big Bang (2025-2032)

Year
2025
2026
2027
2028
Total revenue
$248 200
$421 490
$
1 109 702,20
$
2 618 897,19
Year
2029
2030
2031
2032
Total

$8 878 061,48

$12 518 066,69

$17 775 654,70

$25 419 186,22
Next years CARG*
+12.5% after 2032
Total value of purchased tokens:**
$14 487 838,78
* Averaged taker/maker fee - 0.25%/0,25%, in next years can change

** Repurchase tokens for up to 21% of Big Bang revenue (hard cap archived)
Big Bang (dedicated revenue %)

Capital raised
$100K
$200K
$300K
$400K
$500K
$600K
$700K
$800K
Dedicated lifetime revenue %*
2,5%
5,1%
7,2%
10,3%
12,4%
15,5%
17,6%
21%
Token buybacks:

$362 195

$
738 879


$1 043 124


$1 492 247



$1 796 492


$2 245 615



$2 549 859

$
3 042 446
* dedicated 0.25% per $10 000 capital raised


Current projects
In response to your inquiries we have prepared a list of FAQs
Martino
CEO
Martino is a born operational leader. With 23 years in financial markets, he truly understands where...
Jeff
COO
Jeff is a co-founder of BIG BANG DAO and has 21 years of experience in financial markets.
David
CTO
David started mining BTC in his dorm room and has been in programming for 20 years. He understands what...
Milestones
Here are the major milestones in our company's development
Commencement of work on the exchange concept
The work involved legal intricacies, a method for addressing all aspects related to EU and USA regulations, selecting the mode of operation, presenting the Unique Value Proposition (UVP), finding initial investors, and developing the brand concept.
Final preparation stage!
Recruitment of blockchain and finance industry specialists, preparation for upcoming MiCA2 regulations, and finalizing work on the visual concept of the exchange.
First version of the exchange (pre ALPHA)
Completion of programming work, internal testing, revisions, and the creation of the exchange's website with the new BIG BANG visual design.
The first external code audit
The first external code audit to prepare the exchange for a security audit. Implementation of corrections and changes based on the audit findings.
TECRA SPACE tokenisation started
Commencement of fundraising on the TECRA SPACE platform to finance upcoming marketing activities in 2024.
Completion of the second security audit
Completion of the second security audit; if no critical issues are identified, the exchange will launch one month after its conclusion. In the event of critical issues being detected, further code revisions will be necessary.
The final launch of the BIG BANG exchange
The final launch of the BIG BANG exchange, assuming any necessary code revisions have been made. We anticipate that the specified date is secure and that there won't be any significant legislative changes during the course of these activities that would delay the exchange's launch.
The implementation of the policy to allocate up to 21% of the exchange's revenue
The implementation of the policy to allocate up to 21% of the exchange's revenue for purchasing BANG tokens and subsequently removing them from circulation, commonly referred to as "burning." Detailed information regarding this policy is outlined in the collection's terms and will be published on the BIG BANG website.