What is crowdfunding and how does it work?
Crowdfunding is an alternative way of collecting funds for projects. A method of fundraising through an internet platform, with unlimited number of potential contributors and a low entry barrier is especially beneficial for smaller business owners, entrepreneurs, scientists, artists, activists, and other individuals with a vision.
Project creators pitch their ideas on the platforms, providing potential investors or donators with essential information about their projects, possible benefits, and commercial prospects. In turn, people interested in certain projects can choose to support them and help them reach their goal. Typically, investment platforms charge a fee on successfully funded campaigns (a small percentage of funds raised).
Crowdfunding platforms are a relatively new method of finding investors and/or donors. They have been gaining traction since the beginning of the 21st century, beginning with the launch of a crowdfunding website ArtistShare in 2003, a website that was dedicated to promoting and supporting musicians. The following success of platforms such as Indiegogo (active since 2008) and Kickstarter (launched in 2009) hugely contributed to the popularisation of crowdfunding in the past decade.
Unlike traditional methods of obtaining funds, crowdfunding platforms allow project creators to get world-wide reach much easier, find contributors that are actively engaged in their ideas, as well as they make it possible to acquire funding while simultaneously marketing the products and gaining potential clients. They allow individual people with small capital to become a part of projects they have an interest in, support ideas they want to see realised and, sometimes, they even offer a return on the contribution.
Types of crowdfunding
Crowdfunding can generally be divided into four different types:
Reward-based crowdfunding. It's a method of funding where the author of the project makes a pitch to the investors, and in return for investment offers some kind of award. The reward could be merchandise, a limited edition product, special access etc. For a different contribution a different kind of reward might be offered - the bigger contribution the better the benefits. A very important feature of the reward-based crowdfunding is that the campaigners get to retain their intellectual property rights - patents, copyrights and trademarks.
Equity offering crowdfunding. This type of crowdfunding entails offering investors unlisted shares in your company, therefore it's a method typically used by startup companies. General solicitation involves publicising and advertising various details of securities offered to the potential investors (the goal amount of fundraising, price per share, percent of equity, etc.)
Credit-based crowdfunding. This version of crowdfunding means the crowdfunding platform allows an individual to apply for an unsecured loan and, if accepted, it borrows money from the platform's community and pledges to pay it back with interest.
Donation. As the name suggests the money is given in a form of a donation. Unlike previously listed types of crowdfunding, it doesn't offer an ownership stake, reward, nor is there a promise to repay the contributor. Given the no-reward system, typically there is a social or charitable element to the project in question.
Benefits of crowdfunding for business:
raising funds while simultaneously promoting your project

big reach - prospect of finding numerous micro-investors from all around the world

low-entry barrier

backers support the projects they have an individual interest in

good way to get feedback on your projects

allows creators to directly engage with investors

market validation (creators can see if their project has a commercial value and will gain interest of potential clients)

allows creators to collect the necessary capital without going through the arduous process of taking a loan
Disadvantages of crowdfunding:
the very public character of crowdfunding sites could mean the ideas get stolen

if the target amount isn't reached, potential investors get their money back and the business goes away empty handed (which is an advantage for the investors)

risk of damaging reputation in case of a failed project
Notable crowdfunding platforms
Some of the most prominent crowdfunding platforms include Indiegogo, Kickstarter, GoFundMe, a British platform Crowdcube or a Polish platform Beesfund. Each of these platforms has its distinguishing features, for example they might operate on different methods of crowdfunding, focus on different types of projects and attract the interest of different kinds of investors.
Crowdfunding sites
Kickstarter is one of the most widely known crowdfunding platforms globally. This New York-based platform is open to backers and creators from all over the world. It focuses on (though isn't limited to) creative projects. Kickstarter sees an average of 22.05 million unique visitors a month, which is reflected in the number of successful campaigns and funded projects. The platform has received more than $5 billion in pledges from millions of contributors to fund projects, ranging from films, music, stage plays, comics, journalism, video games, technology, publishing, to food-related projects and more.
Launched projects: over 500,000

Successfully funded projects: 189,313

The total amount pledged: $5,3 billion

Total backers: 18,6 million

Success rate: 37.45%

Project focus: creative projects, divided into 13 categories and 36 subcategories

Crowdfunding type: reward-based

Platform fee: 5% of funds raised
Indiegogo is a San Francisco-based crowdfunding platform. It's one of the first sites to offer crowd-funding and, along with Kickstarter, Indiegogo is one of the two most popular donation-based crowdfunding websites. It's estimated around fifteen million people visit the site each month. Although it started with sole focus on funding indie films production, the platform is currently known for funding tech and innovation oriented projects.
Project launches: 19,000 campaigns each month

Total projects launched: more than 800,000

The total amount pledged: $2 billion

Total backers: 9 million

Success rate: 9.8%

Project focus: tech & innovation, creative works and community projects

Crowdfunding type: reward-based

Platform fee: 5% of funds raised; 8% on InDemand
CrowdCube is a British crowdfunding platform established in 2011. It allows entrepreneurs, with a UK registered company, to present their business ideas and their investment potential in order to encourage potential micro-investors. Anyone who invests money, in return receives equity in the business. The minimum investment can be as little as £10. Crowdcube operates on the "all or nothing" model. If the investment target is reached, the business receives the funding raised. If not, no funds are taken from investors.
Total backers: over 500,000 (as of 2018)

Project focus: UK-based startup companies

Crowdfunding type: equity based

Platform fee: 1,5% of the total investment for successful projects
Neufund, similarly to Tecra Space, is a blockchain-based and investor-directed platform. This German fintech startup, in spite of relatively recent launch in 2016, has seen very promising results. The platform gives investors an opportunity to finance projects while acquiring equity backed cryptocurrency tokens.
Total amount pledged: €17,4 million

Platform backers: over 11,000

Project focus: technology and finance

Crowdfunding type: equity based

Platform fee: 3% of capital raised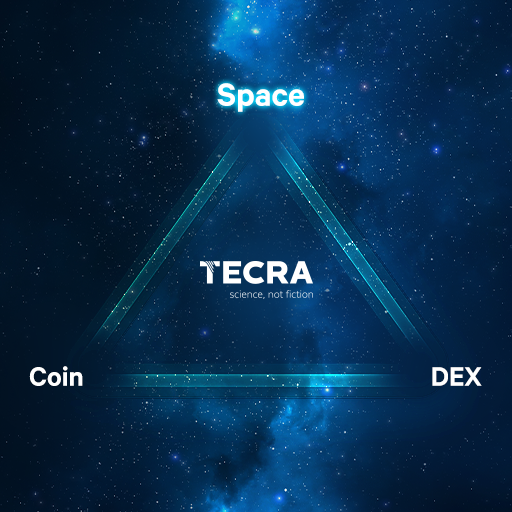 Tecra Space is a beta version of a new investment platform that focuses on funding hi-tech projects. It strives to make the high technology much easier and more intuitive than it has been thus far. Its innovation stems from the implementation of its own blockchain and cryptocurrency, which will enable an easy investment process and will ensure a safe and straightforward exit. The use of cryptocurrencies by the platform may seem intimidating to those, who don't know much about them. The platform, however, will do everything to provide our users with all necessary information to make the investment process pleasant, straightforward and easy to understand.
Tecra Space's main goal is connecting creators (mainly scientists, creators and startups) with investors (individual people or institutions) in the task of bringing innovative projects with a significant commercial potential to life.
One of the main features that distinguish Tecra Space among other platforms are the means of payment used by the platform. Using TecraCoins you can purchase project tokens. The token of each project is created on the Tecra blockchain with the help of smart contracts. It's up to the creator of a project to determine the parameters of a token: the name, quantity, price and usability. At the same time, they obligate themselves to determine what percentage he will use to buy issued tokens from investors.
Other distinguishing features of Tecra Space include:
No investment barrier for investors with a small capital - the minimum investment can be as little as 1 TCR ($3.5)

As an investor you can stop the disbursement of funds

Tecra employs auditors who supervise whether the project development is going as planned

TCR holders get to choose projects that they want to see realised

The money for the project implementation is paid out in tranches (after reaching predefined milestones)
In case of a successful fundraising campaign 7% of the total funds raised is allocated in the following ways:
distributing among TecraCoin owners registered on the platform,

buying and burning coins from the market, which helps to reduce the amount of coins and therefore raise the value of our currency,

2% platform fee.
Tecra Space strives to become the fundraising platform for high tech projects. As it is a beta version of the platform, many new and useful features are to come.