As you probably already know, you have to fill out an application form to get presented to investors on our platform. Every day we receive your application, which motivates us to work even more. We also received a lot of questions about what should be done to make the project stand out from others and be on Tecra Space.

The first and most important thing is to add appropriate files to the application form. The documents that are most interesting for our experts are Pitch Deck and whitepaper.
Pitch Deck
a presentation designed to convince an investor to invest money in a particular project. It is created for marketing, promotional and informational purposes.
Basic information:
Number of slides: 10-15
Content: title page, product description, team, problems and their solutions, market analysis with the competition, business model, project financing, and project development plans.
Objective: to encourage as many investors as possible to invest
Recipient: investor
Average reading time: 4 minutes
Whitepaper
a formal document describing a certain project in a professional manner, including valuable content for potential recipients.
Basic information:
Number of pages: 40-60
Content: authentic research, charts, conclusions, threats, potentials, identified problems in the market, project operation schemes, product/service distribution.
Remember that whitepaper is not a promotional brochure that promotes your project, but a source of reliable and trustworthy information about it.
The goal: to build trust for the project, showing credibility, experience and professionalism. It is also a source of information about the issue the project is working on.
Recipient: investor/person interested in the project.

The second thing you should pay attention to is a short description of the project. Our experts read it in the first place, so it should contain basic information about your activity. By given a short text you are supposed to arouse interest in the project and present its advantages.

To make your project stand out among others, try to think outside the box. Enhance your message by attaching to the application form schemes of the process, project roadmap, photos of finished products, or upcoming prototypes. In this way, you will show that your idea has a specific, advanced direction and is able to present new ideas to the world.

The final element we want to mention is personal data. Don't forget to leave the contact with us so we can discuss the details of the fundraising with you :)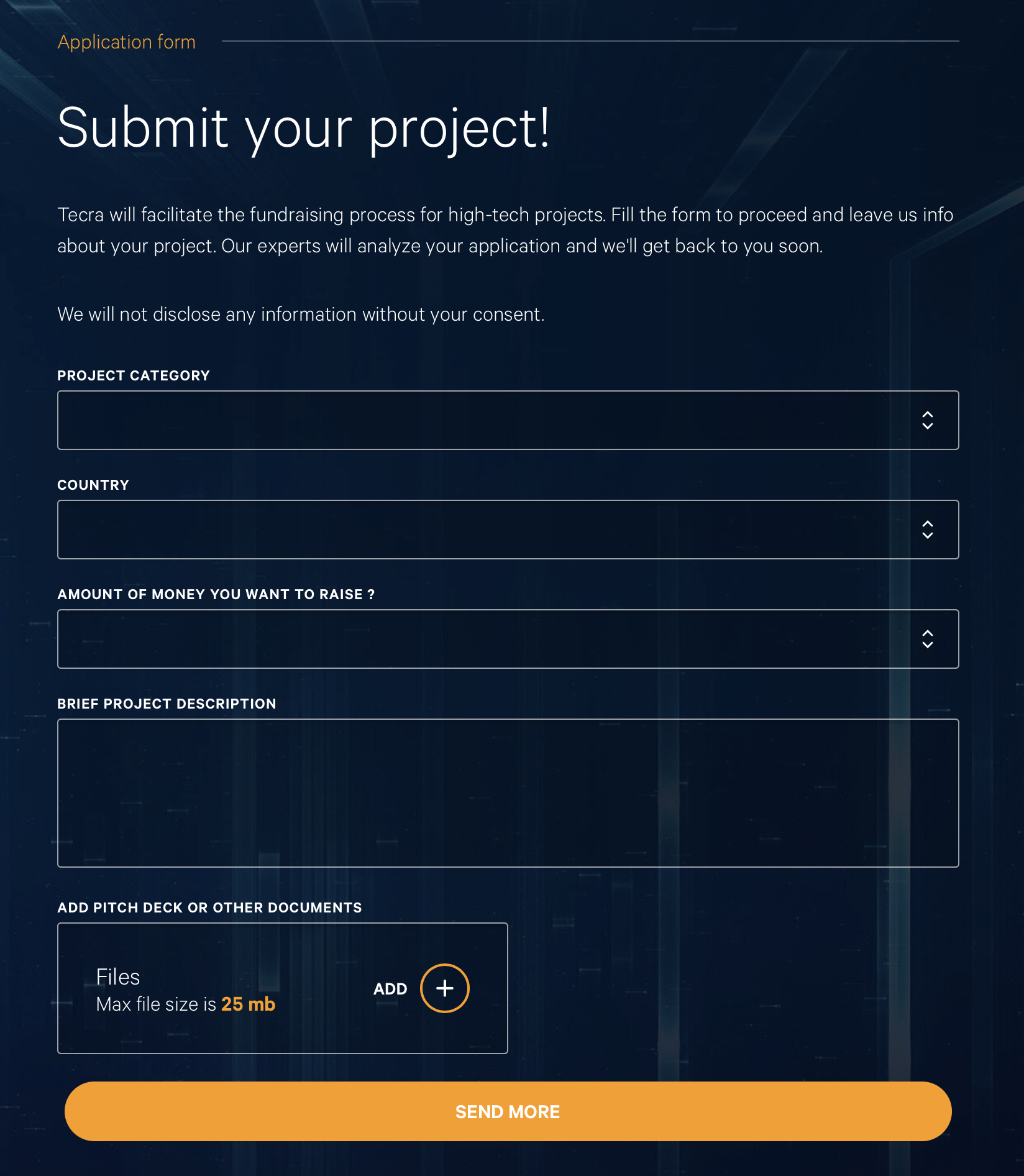 Remember that Tecra Space, first of all, focuses on projects and startups, which are characterized by innovative solutions with global reach. Before you submit your project, make sure that it meets our requirements and distinguishes itself on the market.
It is worth noting, that in order to send the application form we do not insistently require any documents about the project. If you don't have a pitch deck or whitepaper available, simply send us a description of your idea. The article is only a tip on how to simplify the process of project selection and how to increase the chance of your project appearing on the Tecra Space platform.