As altcoins don't have the renown of bitcoin, so often they end up being overlooked - especially by those whose knowledge about the world of crypto remains rather superficial.
Yet, the fact remains. Alternative cryptocurrencies are undoubtedly on the rise and everything suggests that increasingly more traders and investors will be turning to them for potential high returns. As more and more people begin to understand the real-world use of altcoins and promising trading opportunities they provide, their implementation will increase in pair with the value of the currencies and tokens.
What you need to know about Altcoins
The term altcoin is used to refer to all cryptocurrencies other than Bitcoin. As of early 2021, the number of cryptocurrencies is well in the thousands - currently on CoinMarketCap there are listed over 8480 different cryptocurrencies. According to the website, as of February 2021 altcoins account for nearly 40% of the total cryptocurrency market. Until 2017 altcoins' percentage of the cryptocurrency market capitalization remained much more marginal, oscillating around 15%, which shows us a rise of 25% in as little as 4 years.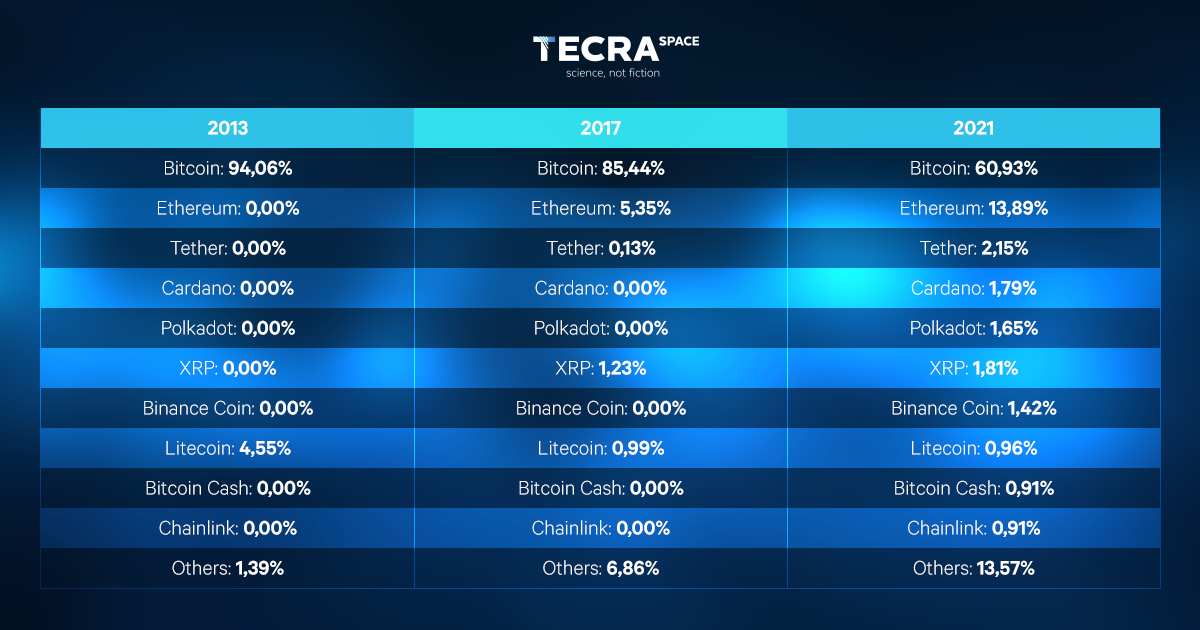 [source: CoinMarketCap]
Altcoins can be divided into different types, the main ones being mining-based cryptocurrencies, stablecoins, security tokens, and utility tokens.
In general terms altcoins work similarly to Bitcoin. Transfer of coins from your digital wallet to another user's wallet is done using a private key. Bitcoin, as well as altcoins, are based on a distributed ledger technology - blockchain. It serves as a database - a public and permanent record of all transactions, which cannot be altered or cancelled after the fact. The information is stored on an interlinked chain of blocks and verified by a network of computers, bringing in decentralised solutions to increase transparency of transactions and data security.
A great number of altcoins are designed upon the Bitcoin framework, making them peer-to-peer (P2P). Altcoins strive to offer an efficient and less expensive way to carry out transactions. The great variety of altcoins, despite many overlapping features, offer different utilities and functions.

One of the differences between altcoins and Bitcoin lies in their rules for mining. Altcoins typically have lower hardware requirements, allow for a higher mining speed and require lower costs. That's why a lot of the altcoins can be mined with regular computer hardware.
Altcoin Pros:
Offering solutions to Bitcoin's shortcomings. Altcoins, even those based on the bitcoin framework, are created with specific faults kept in mind. That is why they can see improvement in factors such as mining speed or cost.

Increasing market competition. By offering new solutions, improvements and addressing certain problems, altcoin creators make space for new competitors to Bitcoin on the market.

Low transaction fees. One of the advantages altcoins have over bitcoins are the relatively low transaction charges.

Lower mining requirements. Mining altcoins is more accessible for an average person, as it doesn't require the most advanced, costly hardware.

Plethora of investment opportunities. The altcoin market is growing rapidly, bringing a lot of lucrative opportunities for cryptocurrency enthusiasts.
Cons of altcoins:
Highly volatile value. The value of altcoins can be subject to drastic and unforeseen changes. This can also be an advantage, as a sharp rise in the price can bring a fast profit.

Potential for fraud and scams. Altcoins can often be the subject of scams and other fraudulent schemes.
Altcoin season
Experts say the altcoin season is upon us. Altcoins pose an increasingly fierce competition to Bitcoin. Only in the last year the altcoin market capitalisation has seen a rise from 118$ billion to 581$ billion - a jump of 460$ billion in only 12 months!
Altcoin season is the time for investing in smaller, lesser-known cryptocurrencies. Although they might be smaller than Bitcoin, they can make significantly bigger price moves.
[source: CoinMarketCap]


Looking at the cryptocurrency market in the past years the trends are clear. A lot of currencies have seen sharp rises in value, for example:
Ethereum, the second-largest crypto behind Bitcoin, has seen a rise in value of about 700% in the last year.

Cardano, the fourth-largest crypto. The currency has surged over 1,100% in the last year.

Chainlink, a 551% gain in just eight months.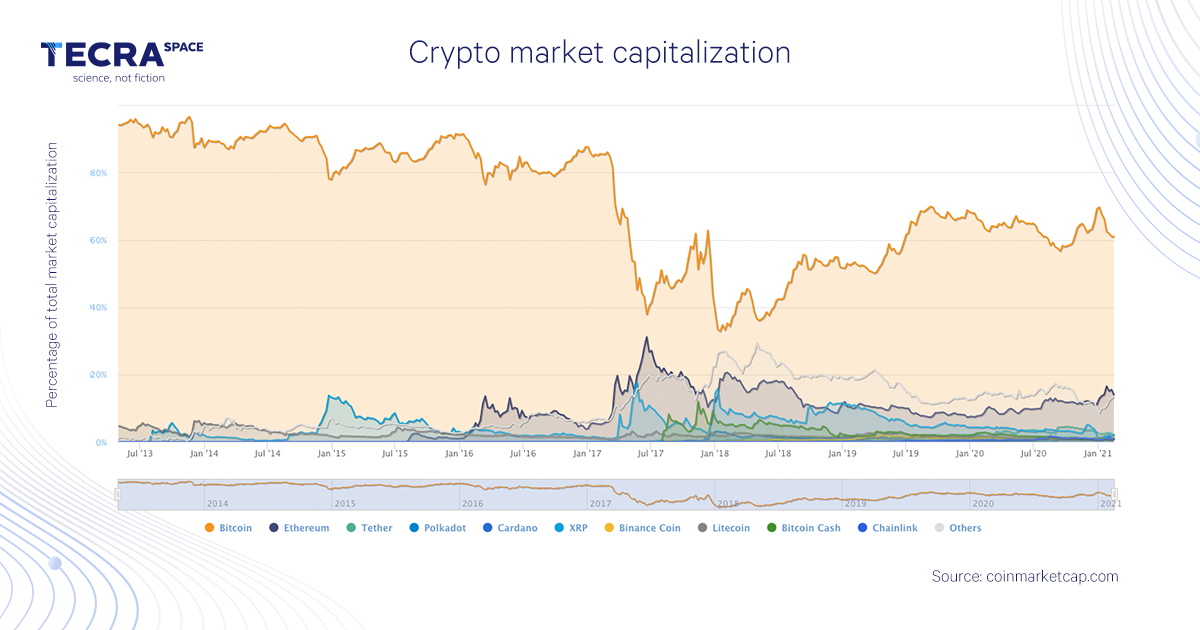 TecraCoin
TecraCoin (TCR) is Tecra's proprietary cryptocurrency. In November 2020 it entered its first exchange, Hotbit. But this was only just the beginning for TecraCoin. Tecra is in constant talks with top tier exchanges in order to provide TCR holders with the best trading opportunities and lucrative profits. In the foreseeable future the altcoin is expected to be listed on more exchanges, which is something we will hopefully be to share more about in the upcoming months. Currently TCR can be traded for USDT, but there are plans to introduce more trading pairs (such as BTC) in the near future!
TCR are intended to be both means of facilitating the exchange of project tokens on our platform, and serve as a form of warranty and risk diversification. Thanks to TCR you will be able to safely support various innovative projects with big commercialisation potential listed on Tecra Space. The coins will also be used on TecraDEX, a decentralised exchange platform, which is one of the central projects of Tecra.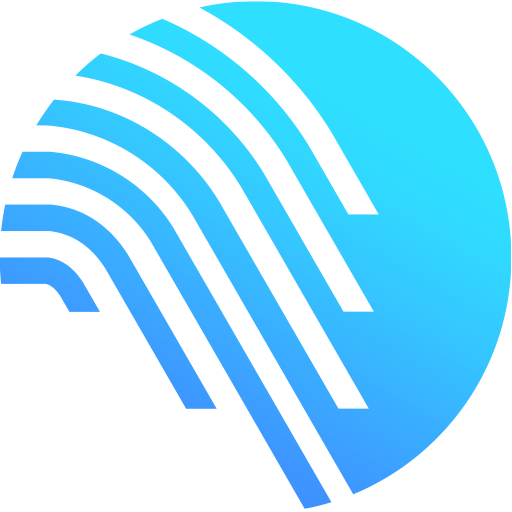 TecraCoins are also a source of numerous benefits. All coin holders registered on Tecra's platform are rewarded with a bonus commission on every project with a successfully conducted fundraising campaign. Additionally, Tecra is introducing new functionalities that help optimise your TCR capital. For example, TecraCoin Smart Deposit is a staking service available on TCR Wallet. It allows you to effortlessly increase your wealth, offering incredibly attractive interest rates and various deposit types suited for your needs.
As the company is involved in the realization of various commercially viable projects, the value of TCR is expected to increase along with the number of successful campaigns. For example, the project of a photovoltaic farm, which is set to begin its campaign on Tecra Space very soon. It is only one of many more campaigns to come, and we are very eager to be able to share their results with you.
With everything Tecra has in store for its community, TecraCoin is set to become a very promising cryptocurrency on the market and an important player among other altcoins. We encourage you to use this opportunity and get your TCR now - that way you can obtain the coins for an attractive price and ensure you will be enjoying the biggest profits! You can get your TecraCoins on the Hotbit exchange, or directly from our platform. You just have to register on app.tecra.space and get your TCR in exchange for USDT or ETH (no additional verification needed), or for fiat money (after passing KYC).
Altcoins are altogether growing stronger, but the overwhelmingly increasing number of new currencies might make it hard to distinguish between the coins that are worth investing in and the ones that are devoid of real value. At Tecra, we want to make it possible for the crypto community to invest in economically viable projects. We want the potential of cryptocurrencies to be used for real development of the economy and technology in the world. Tecra is determined to create a trustworthy platform and work every day for the benefit of TecraCoin holders and high-tech project enthusiasts. We hope you will be there with us to witness it!