Developer team
Tecra developers have recently implemented changes and introduced new features on the app.tecra.space platform:
The ability to purchase TCR for ETH without the need to undergo KYC verification.

New payment methods - payment in fiat currencies is now possible with the use of PLN, EUR and USD. In the case of PLN, the transfer can be made with BLIK and Przelewy24.

Increased account security - so far we only used Google Authorization, which was required to log in to the platform. To make our users' accounts even more secure, we have introduced Multi Factor Authentication, thanks to which you can double-protect your account. Log in to your account for more details.
Planned updates and improvement:
company accounts - soon, in addition to the private account, you will also be able to create a company account on the platform. It will allow you to generate an invoice for buying TecraCoin.

project landing page - the visualizations are ready, and our programmers are working on making their ready versions available on the website as soon as possible. The first official landing page that will appear on our website will be a solar farm project!
Marketing
We have created a well-coordinated team consisting of committed and creative people. Half a year ago we reorganized the marketing department - we hired a lot of new people with a variety of abilities and strong suits. Our team is not big, but each member contributes their best skills and is a valuable part of the whole.
Our team makes every effort to adapt our content to the various needs of our diverse community. That is why our website, articles and news are available in five languages. We also make sure that the content we create is original, informative, but also clear and accessible. As a platform related to blockchain, high-tech technology and innovation, we want our users to feel as if they were brought into a reality of a brighter future - hence the futuristic, space design of the website.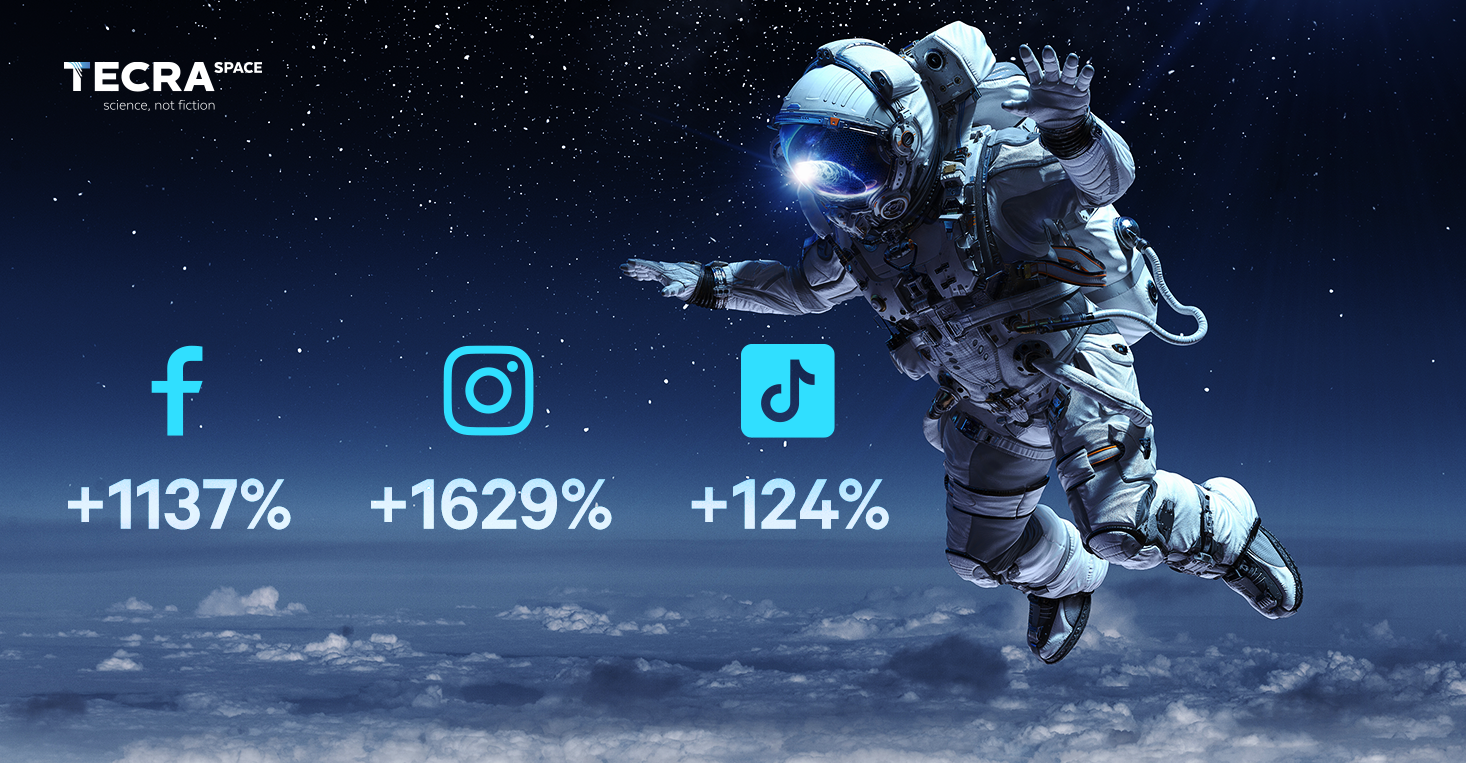 We are constantly working on developing Tecra's social media channels. All platforms have their own specific communities, styles, and differ in terms of how they consume content. We want to reach the largest audience possible, which is why we try to match our content depending on where we post it. We encourage you to visit our social networks, and find out for yourself:
Tiktok - a relatively new platform on the market that is developing at an incredibly rapid pace and has a global reach. The entertaining nature of Tiktok allows us to play around and do a bit of a light-hearted marketing. At the same time, however, it has great potential for the promotion of projects related to the world of crypto. Videos under the hashtag #cryptocurrency have been watched as much as 130 million times. What's more, thanks to Tiktok, the price of the Dogecoin cryptocurrency has recently doubled, and its market capitalization reached $500 million. We hope that TecraCoin will also get noticed by users of this platform! Our channel on Tiktok.
Instagram - it is still one of the most popular and widely used social media. Every day we share instagram stories where we put the latest information about our activity and we regularly post interesting facts from the world of crypto. Our posts inform about important issues related to our industry, such as NFT tokens, masternodes, stablecoin, DeFI, smart contracts and much more! This month we also introduced a new design on our profile. Check it out! Our Instagram.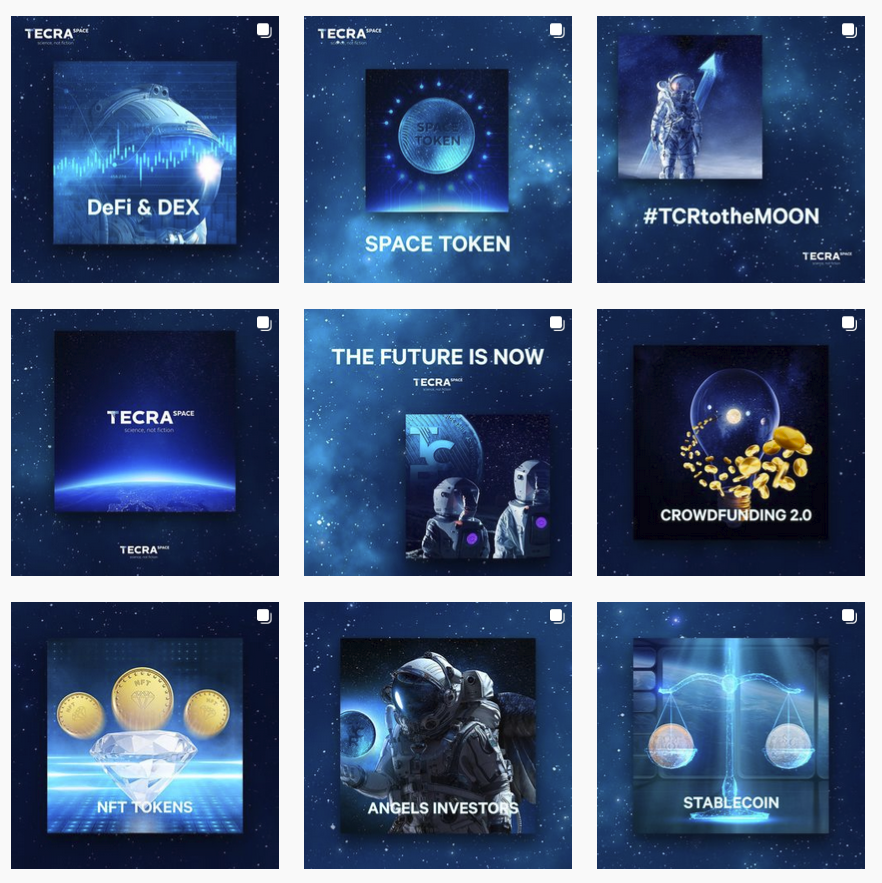 Facebook - following us on Facebook is probably the easiest way to keep up to date with Tecra's activities. We regularly post about the latest events, contests, and let you know about the newest articles on our platform. We make sure that our content reaches as far as possible, so we take into account the diversity of our community, posting in English, Polish, Korean, Chinese and Russian. Tecra's Facebook page.
Reddit - is a very important platform for cryptocurrency and blockchain enthusiasts. Reddit has one of the most active crypto communities. It is a community that requires specificity, reliability and credibility. Therefore, in order to gain recognition from this quality community, we decided to become part of this platform and diligently run our profile there. Our Reddit.
YouTube - the video format allows us to provide content in an accessible way and reach a wide community (which is why we add subtitles to the videos in many different languages). On our channel, we publish videos about new projects submitted to our platform, instructional videos, answer the most frequently asked questions and talk about various issues related to our industry. We also organize livestreams and Q&As to keep our community up to date with the news, current projects and to answer all your questions. Earlier this year, we had a lot of fun recording an ad, which you can watch here!
We also decided to use outsourcing methods to increase our reach. We have recently launched Google Ads, Brave and Adshares advertising campaigns, and partnered with Coinzilla. These partners bring us traffic and investors from countries with a high GDP that are the most interested in the cryptocurrency market, such as the United States, China, Korea or Japan. At the current stage these are only preliminary campaigns, as we are waiting for the first fundraising campaign to be launched on our crowdfunding platform.
In addition to expanding our reach, we want to provide the Tecra community with necessary knowledge about the world of crypto and investment, so that they can make wise, informed decisions while investing. At the beginning numerous issues, terms and mechanisms in this industry may seem enigmatic and overly complex, and their sheer amount rather overwhelming. Therefore, our platform regularly publishes new articles in a series aimed at providing the readers with vital information in an accessible way. We hope that the knowledge gained this way will help our users feel more self-assured and well-versed in the world of cryptocurrencies, crowdfunding and blockchain.
[website traffic on tecra.space as of 19.02]
Things to come
Our community can look forward to many exciting events and projects in the coming months. We are very excited about the crowdfunding campaigns beginning their fundraising at the Tecra Space platform very soon. The photovoltaic farm project and the Spacewalkers game project will start their collections any day now. Our users can already take part in the first private sale round of tokens of the Spacewalkers project. In order to purchase SWT tokens, you can contact our partner ProCoinMarket via this page. Also, be sure to visit the landing page of the photovoltaic farm and learn more about this project!
While waiting for the start of the projects, we are making plans to begin a larger scale marketing. Once we have a finished product, we will be able to increase our efforts and put more capital into promoting the platform. We will mainly target countries with particular interest in investments, cryptocurrencies and high-tech projects, such as the USA or Far East Asian countries. We also plan to start cooperation with various influencers related to the crypto world, who have already gathered an involved and active community interested in this topic.
In the meantime, we are incessantly working on improving the Tecra Space website, so that it is user-friendly, aesthetically pleasing and, above all, functional for both investors and project creators. We really value feedback and an involved community, so new functionalities, such as a voting and commenting system, will be added soon.
What's more, Tecra is in talks with leading cryptocurrency exchanges. Currently, TecraCoin is available on Hotbit, but we hope that it will also appear on new exchanges in months to come, bringing new trading opportunities to all TCR holders. TecraCoins can already be obtained on Hotbit or directly via our platform. You can make a purchase with the use of USDT or ETH without additional verification, or after passing KYC with fiat money (PLN, EUR, USD) via PayPal, credit card, BLIK or bank transfer. We encourage you to take this opportunity to purchase TCR when the price is at its most favorable! We anticipate that with each successful fundraising project, the price of the coin will rise, so make sure now that your profits will be as high as possible.
Our developers are constantly working to create our own decentralized exchange - Tecra DEX. It is one of Tecra's main projects that aims to bring De-Fi solutions to the project financing sector. The exchange will be the dedicated place to exchange tokens and cryptocurrencies. We are constantly making progress, so that Tecra DEX could be launched as planned in the second quarter of 2022.
We are looking forward to the results that the next months will bring! If you also are interested in the future course of events, we encourage you to subscribe to the newsletter and follow us on social media.